Public utility companies cover a wide range of tasks. Public utility companies are more than just a local energy supplier, they are often also waste disposal companies, transport companies or municipal communications providers. This means the increasing importance of digital technologies is forcing them to develop a comprehensive package of measures.
The vectoring phase is also shorter than initially assumed - here, too, a paradigm shift is inevitable. The city as parent company demands the optimal execution of these areas, which serve directly as citizen service and contribute to the attractiveness of the cities.
Realization of intelligent power grids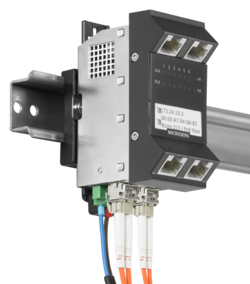 The transition from centralized power grids to a decentralized electricity infrastructure based on renewable energies is driving the development of smart grids. Intelligence primarily comes from the networks for reliable data communication. For this purpose, fiber optic is required as a communication medium, typically these are routed parallel to the power lines. Where there are no fiber optic lines, extension is unavoidable. In order to connect the central control and data processing system with the decentralized power production plants, systems are required which are characterized by the following parameters:
- Compliance with security standards in accordance with the IT Security Act (KRITIS / critical infrastructures)
- Flexibility in fiber optic cabling topology (star / bus / ring)
- Reliability, robustness and protection of investment
The MICROSENS Ruggedized Micro Switch G6 is the ideal device for equipping decentralized, high-performance critical infrastructures.
Due to its wide range of versions, it can be equipped with the required power supply (48VDC / 24VDC / 230VAC), the connection to the respective fiber optic network is made via flexible SFP transceivers. Due to its extremely compact design and the DIN rail adapter, its location can be flexibly selected from small distribution boxes up to control cabinets.
Interdisciplinary use of existing networks generates synergy effects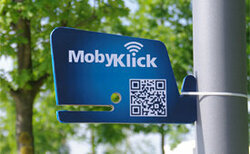 Investing in a high-performance Smart Grid infrastructure poses a challenge for public utilities. But, the expansion of a high-performance fiber optic network in the public sector, such as the Smart Grid, can generate synergy effects.
Synergies arise where investments in the expansion of the networks allow additional applications to be included right from the start or where new sources of revenue are generated by new business models. An example of this is the mapping of communication services such as Wi-Fi in urban areas, video surveillance for traffic control or as an aspect of security or the expansion of fiber-to-the-X infrastructures on an existing Smart Grid fiber optic network. This leads to synergies between the individual entities of the public companies, between the providers and the municipal telecommunications provider (see also: Industry Solutions "Carrier").In the field of WiFi coverage in municipal areas, MICROSENS offers its Ruggedized Micro Switch PoE+. It is a tried and tested network device that not only connects a local WiFi access point directly to the data network, but also supplies it with power via PoE. This network can also be used for IP video surveillance, VLAN technology is used to logically separate these networks.
In this area, too, compliance with the IT security law is mandatory, as the network is decentralized in the urban area. For this purpose, the MICROSENS Ruggedized Micro Switch offers a broad portfolio of different IT security mechanisms to prevent unwanted network access:
- IEEE802.1X as a protective mechanism to prevent unwanted access
- Micro scripting as a freely programmable interface for the creation of switching automatisms
- Central management and monitoring
Control and signaling functions are further applications that use synergies due to the use of the same communication paths.
Particularly in the field of public transport, digitization efforts are necessary to maintain and optimize it. Two disciplines play a key role here:- Digitization of information platforms in the public transport sector
- Digitalization for the control of signal systems
In particular, the control of signal systems requires even greater reliability and redundancy mechanisms for optimized operation.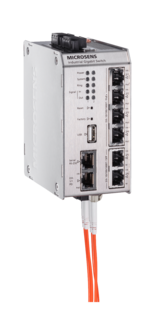 With its Industrial G6 platform, MICROSENS offers devices for exactly this application.
As with the Ruggedized Micro Switch, the Profi Line G6 series has a powerful management interface which can be used to optimally prepare and secure critical infrastructures for deployment.
Compared to the Ruggedized Micro Switch, the Profi Line G6 series has additional interfaces:
- Redundant power supply 2x 24..57 VDC
- SNMP-enabled I/O ports for connecting external alarm systems
If required, specially certified Profi Line G6 devices are also available (EVU certification according to IEC 61850-3/IEEE1613 or for railway applications according to DIN EN 50121-4).
Mastering the "city network" challenge

Like all change, digital transformation requires investment. However, already in the planning phase synergy effects can be taken into account to create new sources of income, so that financing is directly positively influenced and additional opportunities are identified.
In particular, the cooperation of the various subunits of the municipal utility (regional telecommunications providers, transport companies, electricity suppliers) with the creation of synergies is decisive here.
MICROSENS, as a German manufacturer of active network technology with its expertise in the field of fiber optic communication, offers a multitude of components for implementing City fiber optic networks.
Depending on the topology and existing cabling, depending on the functional and above all safety requirements, MICROSENS offers competence for every requirement.
Let us move technology together and approach the change courageously by profiting from our know-how and experience from already realized projects.