Fiber to the Office (FTTO) – future proof, energy-efficient, economical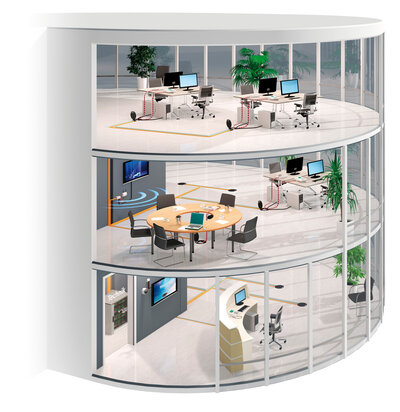 Fiber to the Office (FTTO) is a standard-compliant and decentralised cabling-concept for modern office environments. It combines the advantages of highly efficient fiber optic technology with the flexibility of twisted pair cabling. In contrast to the established structured cabling network (SCN), FTTO additionally employs future proof fiber optic cables for riser cabling and horizontal wiring. Copper cabling is exclusively used to connect terminal equipment like workstations, VoIP phones or IP cameras. As a result, the MICROSENS Micro Switches offer rich power management functions like Power-over-Ethernet and Energy-Efficient Ethernet. With MICROSENS Fiber To The Office enterprises profit from a highly cost-effective networking infrastructure that offers flexibility, protects investments and reduces life-cycle costs.
Investment protection through fiber optic cabling
Until a few years ago, the installation of fiber optic cabling in buildings was considered costly and complex. This picture has changed fundamentally in recent years: Especially because the production costs for copper cabling have increased enormously. Second, because the laying of modern Cat.7 cable became more and more time-consuming, due to the massive volumes of increased cable shielding. At the same time the methods of fiber optic installation have become more efficient and are less costly today. So the overall cost situation has shifted much to the benefit of fiber optic cabling infrastructure. Nowadays, the purchase and installation costs for wiring with high fiber content are much lower, compared to the traditional structured cabling network (SCN). Additionally, the sustainability of fiber optic lines outperforms copper-based cabling: while the standards for copper cabling are replaced every other ten years at the latest, due to technological developments, the average expected service life of optical fiber cabling, in contrast, is many times longer.
Initial cost and operating costs in balance
As independent studies from leading economic institutes indicate, FTTO provides enterprises with future-oriented, long-lasting IT networking infrastructures which involve technical as well as economic advantages. This applies to the costs for connected workplaces and also for the combined life cycle cost resulting from energy consumption and maintenance. As FTTO eliminates the need of technical rooms on each floor, it saves valuable building space that can be used for commercial means. Furthermore, in the case of future technology changes, the complete existing horizontal cabling in fiber optic technology can remain in the building. The decentralized approach of Fiber To The Office also avoids the occurrence of power –consuming climatisation hotspots within technical rooms that are caused by active network technology and UPS systems. The energy optimized MICROSENS Micro Switches reduce the total power consumption of the active network technology. In addition, the centralized management system, MICROSENS Network Management Platform (NMP), including roll-out functions and mass configuration features, minimizes and the efforts for network maintenance and ensures maximum uptime.
Whether new construction, expansion or renovation - FTTO is the right concept
Due to the low volume of fiber optic cable routes, FTTO is the ideal solution for the renovation or expansion of existing IT networks. This is especially true for listed buildings because Fiber to the Office requires only minor changes to the building structure. By usage of a wide range of available up- and downlink versions the MICROSENS Micro Switches allow a gradual expansion of the port capacity of existing networks. Additionally, selective extensions for individual buildings or floors can be implemented in this way, without long interruptions of daily operations.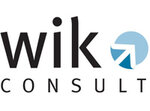 Expert opinion confirms profitability of FTTO
WIK-Consult, a leading telecommunications consulting company, carried out a cost comparison between a typical copper cabling system and FTTO in order to prove the economic efficiency. According to the report prepared by WIK-Consult, companies can save on average 30 percent of the costs for the IT building infrastructure by using FTTO. The study examined the acquisition and operating costs of various installation scenarios: Office environments in new and old buildings with 220 and 1040 workstations respectively. The detailed report contains over 30 pages of valuable information for planners and decision-makers. In addition to the investment costs for technology and installation, the running costs, such as for maintenance and care, as well as energy consumption, are also presented. We will be happy to send you the complete study on request. A Management Summary is available for free download on this website.
Fiber To The Office - A resilient and cost effective network infrastructure for the steadily increasing bandwidth needs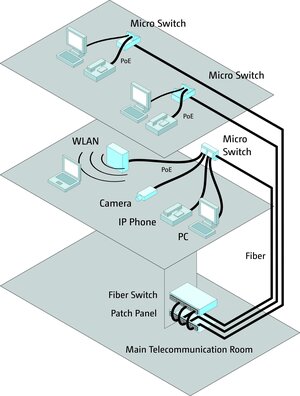 FTTO provides the ideal basis for the increasing bandwidth needs of modern buildings. All modern IT based information systems are heavily relying on a resilient network infrastructure. In addition, new demands like IP based systems are steadily increasing and growing data volumes have to be handled by the network infrastructure. Through the use of extended fiber optic cabling, the FTTO solution ensures enhanced life cycle, maximum performance and an excellent cost-per-bit ratio.
Structured Cabling Network (SCN)
In a modern network environment, the shortcomings of the commonly used Structured Cabling Network become apparent. The use of copper cable for horizontal wiring leads to a number of disadvantages including but not limited to the following: copper wiring cannot overcome the high distances of modern architecture within one building level (restricted to 90m only). This leads to high cost for cable trunking, increased fire load from jacket material, and loss of commercial space for the consolidation of the wiring in technical rooms.
✘ Strict lengths limitations (90 m)
✘ Many wiring cabinets for cable consolidation needed (more than 100 per floor), wasting valuable commercial space
✘ Thick cable trunks with high fire load and susceptibility to EMI (Electromagnetic Interference) have negative impact on overall network reliability
✘ High demand for network hardware leading to low energy efficiency, high cost for cooling and maintenance and average network resilience
✘ Average bandwidth per user. One central switch port is shared by up to 24/48 users.
FTTO - Fiber To The Office extended backbone architecture
FTTO uses the highly efficient standard compliant extended backbone architecture that uses fiber optic wiring for the horizontal wiring. The technical advantages of fiber optic technology, like extended network reach and immunity to electromagnetic interference, making it the ideal choice for the requirements of modern installations: Saving cost for installation and IT operation, higher availability and maximum bandwidth for seamless converged networks (IP based systems).
✔ Almost no length limitations (typical 10 km for single mode fiber)
✔ Only one or two wiring cabinets needed, leaving more potential space for commercial facilities
✔ No cable trunks needed, no EMI susceptibility, very high network reliability
✔ Less and only core switches needed (number depending on the design and requirement of redundancy), leading to high energy efficiency, low cost for cooling and maintenance and excellent network resilience
✔ High bandwidth per user. One central switch port is shared by only four users per FTTO Switch.
MICROSENS Micro Switch - The key to more network efficiency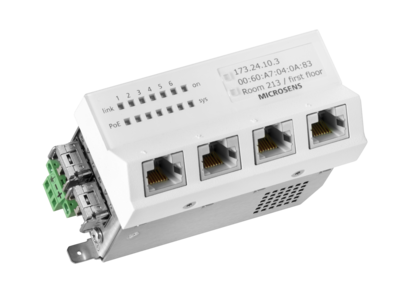 The MICROSENS Gigabit Ethernet Micro Switches are the key element of the highly efficient FTTO networking concept. The intelligent combination of fiber optic and copper uplink ports facilitates the various technical advantages of fiber optic lines for floor wiring. The latest generation of the Micro Switches combines intelligent design, energy efficiency and the latest security features.
Future-proof hardware and reduced energy consumption
The latest generation of the MICROSENS Micro Switches represents the culmination of many years of development, research and decades of experience. Developed and manufactured exclusively in Germany, these devices stand for power saving design, reliability and advanced network functions.
Thanks to the newly developed hardware base, MICROSENS was able to increase network performance and to optimize security features. Compared to previousgenerations, the new hardware platform saves up to 30 per cent of energy costs by delivering increased computing power. The innovative firmware concept based on Linux also contributes to more flexibility in the implementation of current and future protocols and security requirements. Users profit from benefits like long-term safety and investment protection for their businesses.

Flexible configuration management with SD-card
Moreover, the configuration management has been further developed. In addition to supporting all important security management protocols such as SNMPv3/SSH/HTTPS, the latest generation of the Micro Switch is able to store configuration data directly on an SD memory card, secured against unauthorized access. By this means, commonly used configuration parameters can be transferred quickly and safely to other devices. In case of an equipment change, it is sufficient to exchange the memory card only, all important configuration settings, including the IP and MAC addresses will be accepted automatically. This speeds up the recovery of network availability and minimizes maintenance downtime.
Tamper-proof housing and quick installation

The MICROSENS Micro Switches are suitable for a wide range of installation scenarios, be it in the cable duct, floor box installation or under-desk installation. Thanks to bevelled edges, the switch mounting is easier. The compact, monolithic design brings about reliability and robustness to installation and operation. In addition, MICROSENS provides individual special editions with specific surfaces and body colours.
Monolithic body design without moving parts and fittings
Tool-free mounting vertically or horizontally (45 mm x 45 mm snap-in)
Tamper-proof housing according to protection class IP30
Low power consumption optimized circuit design
4x Gbps user ports, 1 Gbps fiber optic port (optional SFP slot), 1x Gbps downlink port
Support of all current security protocols (Port-based security, 802.1x, RADIUS)
Green Ethernet IEEE 802.3az, QoS (prioritization, DiffServ), VLAN (802.1q, 802.3ac), IGMP snooping, IPv4/v6-Dualstack
Internal power supply with 230 VAC input, optional PoE/Poe+ version with 48/54 VDC input (IEEE 802.3at-2009)
Central Management Software (MICROSENS NMP) with roll-out function
Security protocols such as HTTPS, etc., SNMPv3, SSH
LLDP auto-discovery and zero-touch
FTTO installation scenarios - Seamless integration into modern office environments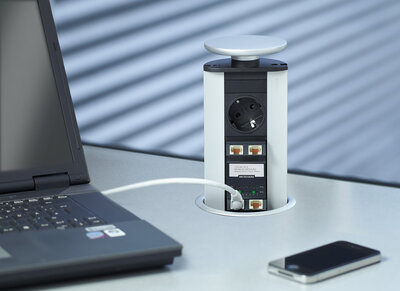 A high-performance networking infrastructure has become as important to a modern office environment as high-quality interiors and a high-class location. Fiber To The Office adds long-term value to commercial office space by providing one of the most important foundations of modern work environments: a high-performance and reliable network infrastructure.
High-class look in state-of-the-art design

The high-class surfaces and materials of the MICROSENS Micro Switches integrate seamlessly into the design of modern office environment. The switches offer an easy accessible port adjustment and can be mounted quickly and comfortably due to the optimized housing base. When designing the housing, loose parts and screw connections were waived intentionally in order to hinder burglary and vandalism in public areas. The new design concept accommodates the layout of modern office requirements and is available in the housing colours white, aluminium and anthracite.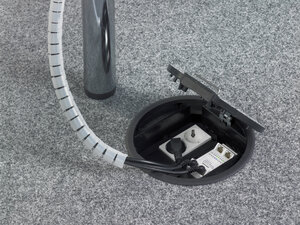 Innovative installation concept

The Micro Switches are available in two different versions with optimized port arrangement for vertical or horizontal mounting. These compact devices can be easily mounted into cable ducts or floor boxes. In addition, the mechanical design allows, thanks to the standard 45x45 mm design, easy integration into high-quality docking stations, multimedia pillars or retractable desktop installations.
Quick installation through standardized snap-in technology

Modern cabling concepts are distinguished primarily by their flexibility. With the 45x45-device design, MICROSENS provides the most compact installation solution for active network components. The Module Technology 45 is based on the basic dimensions of 45x45 mm. This design is distributed worldwide and allows the use of national and international installation systems. The main advantage of the modular system 45 is the cost reduction compared to traditional systems. As the components do not need to be fastened with screws, but can be easily inserted into equipment racks or installation boxes via snap-in, the installation costs are cut by approx. 50 per cent.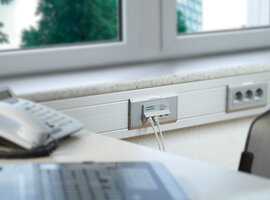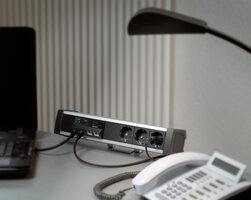 MICROSENS Network Management Platform (NMP) - Easy administration of Fiber To The Office networks

Decentralized structures do not automatically involve higher expenses for maintenance and management of a network. The MICROSENS central management solution for FTTO networks "NMP" provides active support to administrators and IT-professionals. The functions of the software help in daily maintenance and administration tasks and create ideal conditions for an efficient implementation of IT-work processes.
Cost-effective IT-management
In addition to key figures such as system availability, recovery time, and energy efficiency, the service orientation within IT-management receives growing importance. However, the balance between service quality and personnel costs requires efficient operations and powerful tools to help administrators in their daily work. Therefore, MICROSENS provides its customers with reliable hardware solutions and the right software tools for easy integration. With the NMP-solution, network hardware and software constitute a perfectly balanced total solution that ensures high system availability, fast response times and efficient workflow. The graduated licensing model takes different network sizes and installation requirements into account: starting from pure client solutions, to powerful server-based versions, up to high availability solutions that provide easy management for several thousand devices.
Roll-out support and reduction of network recovery times
With NMP network, roll-outs are becoming an easy task. Different group-based master configurations can be distributed simply by MAC address or IP auto discovery. Time-scheduled firmware updates with version control facilitate repetitive tasks and reduce maintenance related downtimes. In addition, the exchange of equipment becomes very simple. The NMP software automatically recognizes similar devices and has the ability to restore configurations and firmware automatically. This process only
requires the input of the old and new MAC address into a web-based interface - tasks that are easily manageable by anyone with very basic networking knowledge.
Redundant design, parallel access and automated documentation 

The NMP-server allows concurrent access by up to 50 administrators with automatic detection of simultaneous configuration accesses to individual devices. Groups of devices, device configuration and topology information are all stored in the NMP-server, including the history of changes, available as SQL database with optional high-availability design. In order to document compliance policies, administrators also get a complete documentation of all the changes and configuration steps with exact assignment to the respective users.
MICROSENS Network Management Platform
Monitors and manages all MICROSENS devices (FTTO switches, industrial Ethernet switches, 10G transmission platform)
The web-based interface allows flexible access to client and server versions with redundant design, group-based user management and granular rights-management
Dedicated control of access rights for employees and external contractors
Autodiscovery, group-based firmware updates and roll-out function with automated distribution of master configurations and firmware versions
Topology manager with import function for building plans and maps
Monitoring of availability, port activity and temperature
Automated alarms and reports
Compatible with most major core systems and monitoring software