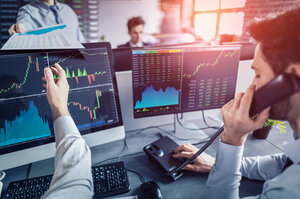 MICROSENS' innovative fiber optic solutions are especially suited to transmitting sensitive and confidential information - financial institutions' integrity has top priority.

Fiber To The Office - secure in-house networking for the transmission of sensitive information

The MICROSENS FTTO concept combines the advantages of high-performance fiber optic networking with the flexibility of copper based twisted pair connection technology. Fiber To The Office's star-shaped Collapsed Backbone architecture enables it to provide more effective bandwidth, thus helping create an efficient workplace environment.

Nowadays, high-performance network infrastructure is just as important to an attractive office environment as top-quality interior decoration or a prime location. Fiber To The Office conserves value over the long term, enhancing commercial office spaces by providing one of the modern working world's most important staples: a high-performance, reliable network infrastructure.
Thanks to the high-end surfaces and materials used for MICROSENS Micro Switches, the communication infrastructure also integrates seamlessly into modern office environment designs. For banks and insurance companies, the result is a tidy and cleanly interconnected workspace - a look that projects reliability.
Optical transport as a basis for modern disaster recovery management and data storage system connection
Satisfying the day-to-day finance world's great reliance upon constant IT system availability, observing compliance regulations and the resulting strict testing criteria are challenges only geographically distributed data centers can meet. Whether twin data centers, Disaster Recovery Centers or SAN to SAN data replication - all concepts have one thing in common: without a sufficiently high-performance network infrastructure, none of them can be implemented.
The MICROSENS optical transmission platform combines short latencies with total protocol transparency, giving you the perfect basis for integrating backup data centers, distributed databases and remote storage. This ensures that, in the event of damage or loss, business-critical applications can be transferred seamlessly from location to location, keeping them available to users with practically no interruption.
Security solutions for fiber optic cabling outside of buildings

Fiber optic connections between two business locations are spread out across large areas, which makes them a broad target for physical access attempts. The optical medium itself may be the ultimate target of such attacks, but optical transmission systems' monitoring outlets are at risk as well. This is true regardless of whether these are so-called dark fiber connections or hired services.
Since entire volumes of data from several locations or data centers are bundled together via these connections, successful spy attacks - directed at confidential data, perhaps - are a particularly serious matter. After all, losing company secrets or facing claims for damages could have disastrous financial consequences. Depending on your particular security needs, MICROSENS can secure fiber optic lines using monitoring security methods or with encryption solutions.