IT infrastructure for the digital classroom
Decentralized fiber optic distribution
Future-proof thanks to fiber-optic cabling
Separate switch intelligence per classroom
Tidy installation in existing cable ducts
Hidden installation of technology in the suspended ceiling
Power over Ethernet for WiFi access points
Port security per classroom
MICROSENS advances digitalisation in schools - IT infrastructure for the digital classroom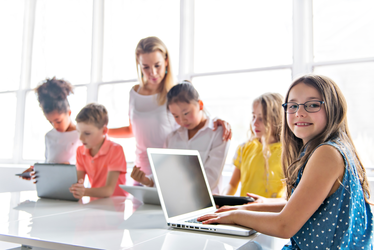 With MICROSENS, schools have a competent partner at their side. We support school authorities and teachers in the design phase and of course also during the detailed planning and implementation up to the ongoing operation.
Regional proximity, innovative products and professional advice are a self-evident part of our business. Development and production "Made in Germany" contribute significantly to the proven quality of our products. You will find them wherever reliability, durability and cost-effectiveness are important - in schools, universities, hospitals, airports, financial administrations and in industrial plants. Our references are extensive and can be verified at any time.
MICROSENS employees are always happy to provide advice and support to school representatives. School authorities, teachers and students can rely on us. Take our word for it.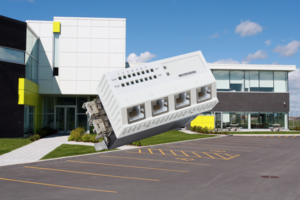 MICROSENS 10G FTTO school LAN, the modern way
Future-proof, standard-compliant and cost-efficient LAN, can be implemented even under the greatest constructional restrictions
Easy to plan, can be easily expanded at any time, virtually or physically separated
The greatest possible future readiness thanks to single mode fibre-optic cabling with the longest possible product life cycleA network infrastructure that includes a high-performance WiFi (Wi-Fi6 according to IEEE802.11ax) with multi-gigabit performance, which does not require a separate LAN structure and is already equipped today for the increasing use of tomorrow's smart devices
Compact central switch due to intelligent 10Gigabit bandwidth sharing in ring structure
Tamper-proof technology that can be firmly integrated into the infrastructure
MICROSENS Micro Switches can easily be administered centrally
The flexible cabling also ensures the possibility of structural network adaptations in the future with minimal effort
Advantages for the teacher
Option for alarms, public address system
Limitation of WiFi for individual pupils
Disabling of the WiFi by the teacher
User interface for the teacher
The right concept for schools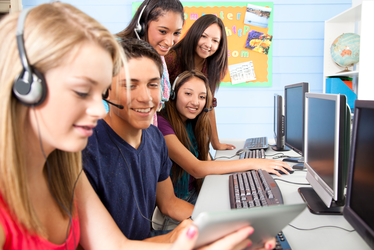 Fiber To The Office (FTTO) combines the advantages of high-performance, future-proof fiber optic cabling with the robust copper cabling for end devices. Fiber optic connections run in a star configuration from a central distributor to micro switches in the classrooms. With optical fibers, cable lengths of several kilometers are possible. This means that only one central technicalroom is needed for the entire data network, even if the school consists of several buildings.
FTTO uses the star-shaped cabling standardised according to DIN EN 50173-2 and -6. It is particularly easy to plan, install and manage. This is particularly advantageous in schools that do not have an IT specialist who only takes care of network management.
Digital blackboard
Teacher's computer
Projectors
Access Points
Document scanners
Smart building sensors (e.g. presence sensors, temperature etc.)
The end devices are connected to the network as usual via RJ45 cables. There are four RJ45 ports on the front of the Micro Switches for this purpose. These can also supply power to end devices with PoE+, which is particularly important for WiFi access points and IP cameras. The status LEDs above the RJ45 ports inform the teacher about the status of the network connection at a glance.
The Micro Switches can be managed individually and are equipped with numerous security functions that effectively prevent unauthorized network access. The fiber optic connection and an RJ45 connection for a WiFi access point are concealed in the cable duct and thus tamper-proof.
Since fiber optic cables require significantly less space than copper data cables with the same number of connections, the installation requires considerably less intervention in the building structure. And less construction work means less disruption to school operations. An additional safety plus: the few thin fiber optic cables needed for FTTO networks also cause a much lower fire load than thick bundles of copper cables.
Fiber optic connections offer particularly high data rates for the longest possible service life. The economic efficiency of FTTO networks has been proven in numerous projects of various sizes. A detailed calculation is provided in a study by WIK-Consult, one of the leading telecommunications consultancies in Germany. Their calculations showed that FTTO offers a cost advantage of about 30 percent compared to the traditional, structured cabling for 200 users. All costs for installation and operation were taken into account. We would be happy to provide interested parties with the summary of the study free of charge.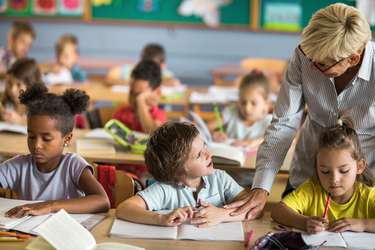 Our children should learn to use digital media competently and responsibly as early as possible. Therefore many federal and state governments worldwide are providing a funding budget for the qualification of teachers and for school equipment. In order to apply for the funding, schools must very often draw up a media development plan, which also includes the requirements for the IT infrastructure. Since the funding is limited, a long-lasting, secure and at the same time as economical as possible solution is required.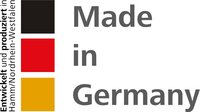 10G FTTO Solution "Made in Germany"
Fiber to the Office (FTTO) offers a comprehensive, future-oriented network solution for your school.
From planning to the desired result - we support your school on its way into the future!