Success Story
New approaches to healthcare at Cannes Hospital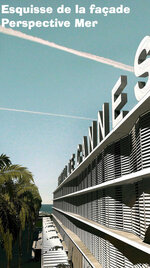 60 000 square metres and 882 beds — these are the impressive numbers for the Pierre-Nouveau-Les-Brousailles medical center in Cannes. The modern technical equipment is equally as impressive. Optical cabling throughout and universal utilisation of IP data transmission make a variety of advanced applications possible, from medical applications to administration, building services and patient entertainment systems.
Yet even though optical cables provide the most up-to-date technological option, a significant amount of terminal equipment and medical facilities that are essential in a hospital are still based on copper technology. The solution to this balancing act — from an economic perspective too — is the Fiber To The Office (FTTO) concept from MICROSENS. The optical cable is brought as close as possible to the user and the peripheral devices are connected via a copper cable. The linking elements between the two transmission media are the MICROSENS compact switches, which can be installed in cable trunks or floor boxes without the use of special tools via a straightforward "snap-in" method.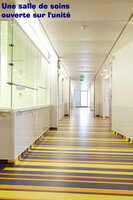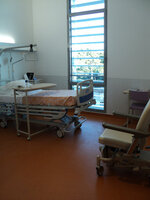 A total of 1,400 MICROSENS switches are in operation in the Cannes hospital. In order to cover all possible applications in this modern hospital MICROSENS actually adapted and developed the products specifically for this project. Alongside the creation of virtual networks, specific authentication mechanisms have also been implemented to provide effective protection against unauthorised access to the hospital network. Certain biomedical devices are also authorised on the basis of their MAC address. Over 500 access points with reduced emission capacity provide network coverage throughout the hospital.
The patients benefit from the highest level of comfort and can access a multi-media terminal from their beds via the fiber optic network — these terminals feature a telephone, internet access, radio, games and numerous TV programmes via IP television. In the medical field too, however, fiber optic cables and active switches are installed in mountings of surgical and anaesthesia systems.
About MICROSENS
Transmitting information via fiber optic connections offers numerous benefits. MICROSENS GmbH & Co. KG recognised this very early on. As one of the pioneers, the company has developed and produced high-performance communications and transmission systems in Germany since 1993. Individually matched to the demands of diverse usage areas and embedded in comprehensive concepts for individual sectors. But, above all, close to the customer. Technical challenges from customer projects are incorporated directly into product development. This way, IP-based automation solutions are created for modern buildings, cost-efficient network concepts for the office and workspace, robust and fail-safe solutions for industrial environments, optical transport systems future-oriented wide area networks and efficient coupling of sites and computer centres.