Success Story
MICROSENS DWDM Transport Platform Connects Data Centers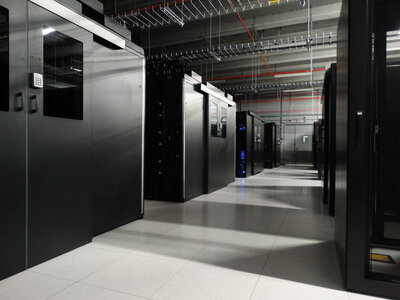 Boasting a total area of 12,000 square meters, the two data centers were specially designed and built to meet the highest data security standards and requirements. The facilities have independent communications and power infrastructures, including fiber-optic connections which enable instant failover between the centers in case of a sudden failure, allowing Polcom's services to deliver the highest level of security. Basing on IT architecture Polcom provides Redundant Enterprise Cloud Infrastructure service – a unique offering on the Polish market which supports the uninterrupted operation of any business or organization. The service is very popular with companies whose top priorities include ensuring business continuity and optimizing capital expenditure in the area of IT infrastructure.
The Polcom Data Center uses a number of innovative solutions, including a proprietary building management system (BMS) that enables smart management of multiple data center systems and helps optimize the associated costs. Other highlights include the Direct Liquid Cooling System used for servers and the Thermal Energy Storage system. By using these solutions, Polcom has been able to significantly reduce the amount of power consumed by the server facility.
To support its core operations, the Polcom Data Center relies on leading-edge IT hardware which can guarantee a high level of quality and operational reliability. This is why Polcom chose the MICROSENS MSP1000 series optical DWDM transport platform to establish a redundant connection between its data centers. The DWDM system is designed to support 40 optical channels (upgradeable), including 40/100/200G channels, and supports Ethernet and Fibre Channel transmission. The system's compact design also helps optimize installation space utilization.
Thanks to its excellent functionality, the MICROSENS DWDM system is an optimum solution for this type of application. The solution was designed to deliver large volumes of data in a reliable manner and at an optimal cost-per-bit ratio. Modular design and scalability make it possible to expand the system as the demand for bandwidth grows, without requiring the installation of costly additional fiber-optic connections. This allows users to upgrade their network infrastructures in a flexible and economical manner.
"For many years, we have built our competence based on experience, well-thought-out decisions and cooperation with technology leaders providing solutions for building high availability environments," says Marcin Gwóźdź, Polcom CEO. "With MICROSENS, the important thing was not only the manufacturer's open approach, but also its extensive experience with a technology which can ensure stable and secure operation of our facilities, allowing us to build a leading position in the field of data processing in Poland and in Europe."
About MICROSENS
Transmitting information via fiber optic connections offers numerous benefits. MICROSENS GmbH & Co. KG recognised this very early on. As one of the pioneers, the company has developed and produced high-performance communications and transmission systems in Germany since 1993. Individually matched to the demands of diverse usage areas and embedded in comprehensive concepts for individual sectors. But, above all, close to the customer. Technical challenges from customer projects are incorporated directly into product development. This way, IP-based automation solutions are created for modern buildings, cost-efficient network concepts for the office and workspace, robust and fail-safe solutions for industrial environments, optical transport systems future-oriented wide area networks and efficient coupling of sites and computer centres.