Success Story
Dubai International Airport expands using MICROSENS networking technology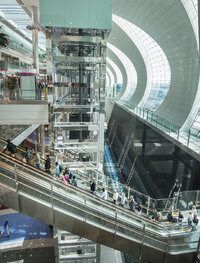 Financial considerations were another key factor in the decision to install a fiber optic network using MICROSENS switches: by consulting with MICROSENS, network architects were able to reduce the number of distribution rooms needed significant compared to exclusively copper-based cabling and network technologies. This increases the amount of usable space available to businesses and airport management in the new building. The FTTO concept helps reduce the overall costs of purchasing, installing, and maintaining cabling technology and intermediate distributors. Furthermore, the MICROSENS concept contributes to a significant reduction of IT-related operational and energy costs, since the decentralised approach makes air conditioning and uninterrupted power supply (UPS) equipment largely unnecessary.
Dubai Airport is becoming one of the most important transport hubs for passenger and freight air traffic between Europe and Asia. This requires solid investments in future-proof networking technologies that can be adapted to suit new requirements easily and cost-efficiently. MICROSENS' FTTO concept is well prepared for this: the system can be upgraded to new technologies by simply exchanging active network components, and passive cabling can remain in place during expansions.
Planning for the new Concourse A terminal building began around six years ago. The original plans included a copper-based network. This changed, however, when MICROSENS consultants presented the hybrid FTTO concept with fiber optic technology and explained the benefits it would provide the airport. The integrator was awarded a contract for more than 8,000 MICROSENS switches to be used in network infrastructure, which are already delivered and installed. The new Concourse A terminal opened on January 02, 2013.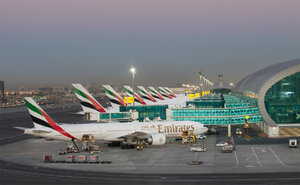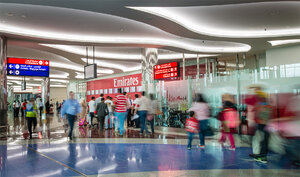 About MICROSENS
Transmitting information via fiber optic connections offers numerous benefits. MICROSENS GmbH & Co. KG recognised this very early on. As one of the pioneers, the company has developed and produced high-performance communications and transmission systems in Germany since 1993. Individually matched to the demands of diverse usage areas and embedded in comprehensive concepts for individual sectors. But, above all, close to the customer. Technical challenges from customer projects are incorporated directly into product development. This way, IP-based automation solutions are created for modern buildings, cost-efficient network concepts for the office and workspace, robust and fail-safe solutions for industrial environments, optical transport systems future-oriented wide area networks and efficient coupling of sites and computer centres.