Success Story
Detecting goals with sophisticated technology and reliable gigabit fiber optic connections: French Ligue 1 relies on German goal line technology
This is made possible by powerful technology from GoalControl GmbH for which the French league association LFP decided for in May 2015. The network technology connected takes on the crucial role of transmission in the challenging project. Video data have to be transmitted quickly and reliably under extreme conditions and in some cases over long distances via a fiber optic network. The active components for this are supplied by MICROSENS GmbH & Co. KG.
Functionality of GoalControl-4D
The GoalControl-4D system captures all ball movements on the pitch using a total of 14 cameras installed at precisely calculated positions in the stadium. These data are transmitted by a powerful fiber optic network to a central processing unit. Thanks to advanced image recognition, the system takes all movements into account to extract the exact position of the football. As soon as the ball approaches the goal, the system records its exact coordinates. If it really does cross the goal line, this is immediately registered and the central processing unit sends an encrypted optical and acoustic signal to the referee's receiver watch.
Precision down to the last detail

This principle of goal line technology is easy to explain. Optimally matching the individual components requires many series of tests and precise calculations. Seven cameras per goal ensure complete coverage of the entire pitch. Over 500 images are captured, transmitted and processed per second in order to ascertain the exact position of the football to an accuracy of 5 millimetres. In addition, given a shot on goal, within less than 2 milliseconds GoalControl Replay provides all the camera information as video evidence for the viewers. This can only be achieved if all information is transmitted within the shortest time – in all weathers and also from the camera at the other end of the stadium roof.
Convincing glass fiber technology

When it came to the active optical fiber based network components, GoalControl GmbH decided for Microsens GmbH & Co. KG, a pioneer in the field of glass fiber technology. The fully fledged products and the longstanding experience also convinced Dirk Broichhausen, Managing Director of GoalControl GmbH: "Our technology is based on fast and reliable transmission of all data. Microsens supplies us with high-availability components that have already proven their capabilities in Brazil. We are pleased to be able to count upon Microsens as a dependable partner, also for the Ligue 1 project."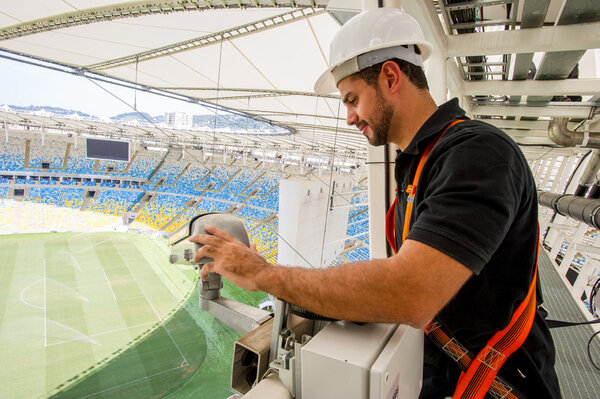 About MICROSENS
Transmitting information via fiber optic connections offers numerous benefits. MICROSENS GmbH & Co. KG recognised this very early on. As one of the pioneers, the company has developed and produced high-performance communications and transmission systems in Germany since 1993. Individually matched to the demands of diverse usage areas and embedded in comprehensive concepts for individual sectors. But, above all, close to the customer. Technical challenges from customer projects are incorporated directly into product development. This way, IP-based automation solutions are created for modern buildings, cost-efficient network concepts for the office and workspace, robust and fail-safe solutions for industrial environments, optical transport systems future-oriented wide area networks and efficient coupling of sites and computer centres.