Success Story
The Estrel Congress & Messe Center in Berlin excels in IT too: Convention Hall II satisfies every wish organisers could possible have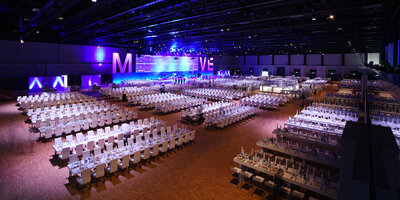 Big, bigger, biggest
Extraordinary architecture, unique shows and a Congress & Exhibition Center that leaves nothing to be desired: Only superlatives can be used to describe the Estrel Berlin. Germany's biggest hotel with over 1,125 rooms and suites, five restaurants, three bars, a summer garden with its own marina, as well as a modern wellness and fitness area. The Estrel Congress & Messe Center covers a total area of 25,000 sqm. and is directly connected with the four-star hotel complex. Since September 2015, the newly built Convention Hall II of the Estrel Berlin has offered large national and international companies and associations a further attractive location for conferences, trade fairs and events. A wide range of major events has already place in the newly constructed complex within the first months of opening. Kick-off meetings of large corporations with their own exhibition area or worldwide sales meetings - they all have one thing in common: The IT demands facing companies are growing continuously: live video streaming at major events, exhibition stands that need their own WiFi or direct access to a high-speed network, this is on the agenda.
Flexible, reliable and secure
That is why detailed IT planning was of paramount importance in conceiving the new Convention Hall. It soon became clear that the Estrel Berlin also had to take new approaches in IT matters. Up until then, copper technology had been the preferred form of cabling, but network segments with an overall length in excess of 100 meters as in Convention Hall II meant that this technology would neither have been technically nor economically feasible. Customer access to the network still had to be possible using standardised copper cable and RJ-45 connectors. These requirements led the Estrel Berlin IT team straight to Gigabit Ethernet Switches from MICROSENS. The Switches can be easily and quickly mounted in the wall duct or floor box. They also fulfil all criteria for manageability and security:
Power-over-Ethernet functionality
Individual and fast configuration of the Switches via a central management system to facilitate short conversion phases
Besides the technical functions, for Mario Gärtner the reliability of the components was a key point: "Our customers expect top quality from us in every respect. Especially IT services have a crucial influence on the decision for an event location."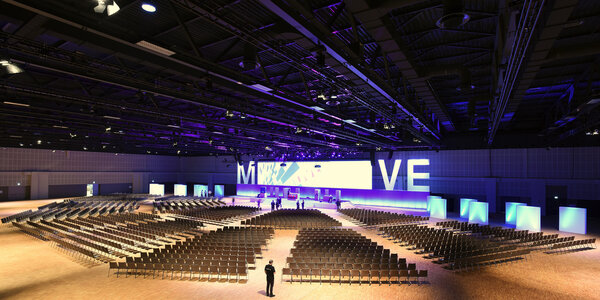 About MICROSENS
Transmitting information via fiber optic connections offers numerous benefits. MICROSENS GmbH & Co. KG recognised this very early on. As one of the pioneers, the company has developed and produced high-performance communications and transmission systems in Germany since 1993. Individually matched to the demands of diverse usage areas and embedded in comprehensive concepts for individual sectors. But, above all, close to the customer. Technical challenges from customer projects are incorporated directly into product development. This way, IP-based automation solutions are created for modern buildings, cost-efficient network concepts for the office and workspace, robust and fail-safe solutions for industrial environments, optical transport systems future-oriented wide area networks and efficient coupling of sites and computer centres.