MICROSENS GmbH & Co. KG is a subsidiary of euromicron AG (www.euromicron.de). As a German specialist for the Internet of Things (IoT), euromicron puts its customers from SMEs, the public sector, as well as large companies, in a position to network business and production processes and to successfully venture along the path to a digital future.
The companies of the euromicron Group develop customised IoT solution concepts in the markets of "Digitised Buildings", "Industry 4.0" and "Critical Infrastructures":
Digitised Buildings
Everything that can be integrated into networks can also be controlled in the "Digitised Building". Technologies and solutions from euromicron ensure that buildings thus become an integral part of the "Internet of Things". Companies benefit from energy savings, convenience, simple communication and security at all levels.

Industry 4.0
Smart processes, digitised small series production, sustainable quality assurance or innovative working time concepts - companies develop more productivity and new business models on the basis of Industry 4.0. The basis for this is stepwise digitisation, which euromicron implements it for its customers with foresight and a view to investment security.

Critical Infrastructures
For modern societies, secure networks are vital for survival: Banks, energy suppliers, public authorities, telecommunications, transport and healthcare rely on fail-safe systems. euromicron develops solutions for "critical infrastructures" on the basis of a wide variety of IT and communications technologies.

To this end, they combine the most technically and economically sensible components from the areas of terminal devices & sensors, infrastructure, platform, application and service. euromicron's solutions enable users to migrate their infrastructures and systems step by step into the digital age and develop new services themselves. In this way, they create the basis for tomorrow's corporate success. The technology corporation, which has been registered at the stock market since 1998 with its headquarters in Frankfurt am Main, employs approximately 1,800 staff at 30 company sites.
The history of euromicron is the history of a corporation at the pulse of technological change. Over the past 20 years, euromicron AG has accompanied its customers on their way to a technologically changed future with new business models. This has required and continues to require changes in thinking and skills.
Our goal is to anticipate new solutions without simply throwing existing solutions overboard. On this basis, we have ensured that our customers keep pace with technical developments and keep their investments safe - for the past 20 years.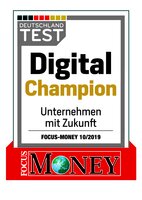 euromicron captures "Digital Champion" 2019 award
IoT specialist impresses in study by FOCUS-MONEY and the Hamburg Institute of International Economics. Read more...